CFT: Complete Fuel Treatment
The Ultimate All Season, Year-Round Hi-Tech Fuel Additive and Anti-Gel for the treatment of Ultra-Low Sulfur (ULSD - S-15), Low Sulfur (LSD - S-500), and High Sulfur (HSD - S-5000) Diesel Fuels
The Everything in One Package Treatment to produce *Premium Diesel Fuel.

Provides Lubricity to meet or exceed all OEM Specifications

Provides anti-gel protection – will lower CFPP and PP 25°F to 35°F

Disperses Water – both dissolved and free water

Improves Fuel Injector Cleanliness to meet or exceed Cummins L-10 specification

Inhibits corrosion to meet or exceed Cummins N-14 specification

Improves oxidative stability

Improves thermal stability

Raises Cetane 4 to 6 points

Dissolves gums, varnishes, and carbon deposits and prevent new ones from forming

Acts to protect seals and gaskets

Neutralizes Acids

Stabilizes Fuel
Using CFT – Complete Fuel Treatment can actually save you money. Why spend the extra money for blended fuel (#1D or Kerosene blended with #2D) when CFT can do more for less. Blended fuel is both expensive and counterproductive. Number 1D fuel and or Kerosene has significantly less BTU's  per gallon* than does straight #2D fuel. So using these products gives you less energy per gallon. #1D and or Kerosene are more expensive than #2D.
Raw (untreated) # 2 Diesel Fuel at -25? F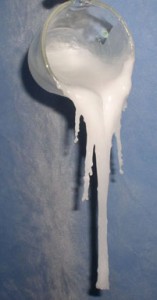 Blended fuel costs more per gallon and gives you less energy (mileage and power). Using CFT as directed with straight #2D fuel will give you greater protection to a lower temperature for less than the cost of blended fuel. Plus you get more energy (mileage, power) and all the many other benefits of using CFT.*BTU's per gallon (approximate) of:#2D – Diesel Fuel – 138,500 – 147,000 BTU's per gallon#1D – #1 Diesel or Kerosene – 130,000 – 136,000 BTU's per gallon
#2 Diesel Fuel Treated with Complete Fuel Treatment at -30°F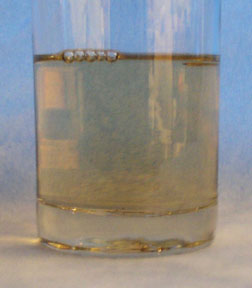 Key Benefits
Removes Water from Fuel

Improves Cetane Rating of Fuel

Improves Lubricity of Low and Ultra Low Sulfur Fuels

Improves Fuel Atomization for Greater Efficiency

Cleans Fuel Injectors and Pumps

Powerful Anti-Gel to Prevent Fuel from "Gelling" and Fuel line Freeze-ups

Lowers CFPP and CP by up to 40?F

Everything needed to create a Premium Diesel Fuel
Directions
For best results, use every time you fuel, adding contents to fuel tank(s) prior to fueling. The fueling process will then ensure that complete and proper mixing takes place.
Treatment ratio is 1:1000 which equals 32 oz. per 250 gallons, or 1 gallon per 1000 gallons of fuel.
First time users can use a ratio of 1:500 which is 32 oz. per 125 gallons, or 1 gallon per 500 gallons of fuel to further lower CFPP and PP and to speed the cleaning process.
When operating in extreme conditions, i.e. extreme cold, marine, high humidity, poor quality fuel, it is acceptable to use 32 oz. per 125 gallons (1:500) on a regular basis.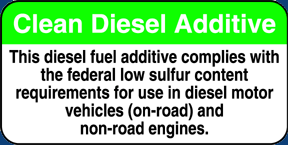 Product Sizes
| Description | SKU # | Treats US Gallons |
| --- | --- | --- |
| 12 oz. 24/case | 10703 | 40 (per container) |
| 12 oz. CONCENTRATE 24/case | 10704 | 100 (per container) |
| 32 oz. 12/case | 10705 | 250 (per container) |
| 1 US Gallon 4/case | 10706 | 1000 (per container) |
| 2.5 US Gallons 2/case | 10706A | 2,500 (per container) |
| 5 US Gallons (pail) | 10707 | 5,000 |
| 55 US Gallons (drum) | 10709 | 55,000 |
| 275 US Gallons (tote) | 10700 | 275,000 |